Which capo is right for you?
Author: Six Date Posted:24 April 2022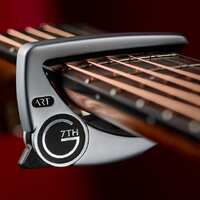 Capos are a super useful tool in the arsenal of any songwriter or performer, allowing you to change the key and the mood of a song by shifting the open point. But with so many styles out there, which is the right one?
Sash VS Clamp type
The sash type is the oldest of the capo styles and is also the simplest and cheapest. Just wrap one around your neck, and you're good to go. The clamp type is newer and comes in many different styles.

Sash capos
Pros
Cheap
Lightweight
Slim and out of the way of your fretting hand
Cons
Easy to break
Doesn't fit all guitars
Slow to put on and take off
Best for
Beginners
Players that seldom use them
Those with larger hands

Clamp capos
Pros
Strong
Quick to install and remove
Can last decades
Cons
Bulky
Not all models have adjustable tension
More expensive
Best for
Intermediate and advanced players
Gigging musicians
Singer songwriters and those who perform with multiple vocalists or do covers
Our most popular sash capo, the G7th Ultra Light is an excellent choice for a first capo. They come in two versions, one for steel string and one for classical guitars. The difference being the width and the radius they're suited for.
Clamp capos have more options available with some real cool tech on offer. The budget AC01 comes in a variety of colours and is a great first clamp capo. For those who need a hard working tool that won't give up, the G7th Nashville Capo will gladly go from headstock to fretboard, multiple times a night for years.
One disadvantage to many clamp capos is the tension is set by a spring internally which can result in excess pressure and your pitch going sharp. This is a well dreaded phenomenon amongst players, but can be easily avoided with an adjustable tension capo. At the same price point as the Nashville, the G7th Newport Capo has a quick release mechanism that has a thumbscrew to allow you to set the pressure to the goldilocks zone with enough pressure to have no buzz, but not so much you are out of tune.
For the ultimate in modern players capos, the G7th Performance 3 capo features a one handed ratcheting mechanism for quick attachment, perfect pressure AND it features an adaptive radius for whatever acoustic you need to fit it on.
This only scratches at the surface of capos with partial capos, roller capos and more out there for the advanced player, or the Heritage Collection for when you want a premium piece of gear that will last as long as you'll ever play.
Still not sure what you need? The team at Dr Gear will be glad to help you pick the right capo for your needs and budget.
---
Leave a comment